Irish Genealogy Toolkit has published a 94-page e-book providing brief details of all the brand-new and upgraded Irish genealogy records released in the six years from January  2011 and December 2016.

It's been a golden period for Irish family historians, with new records appearing online almost every week. No researcher is going to complain about that, but keeping up with such a pace of delivery can be demanding.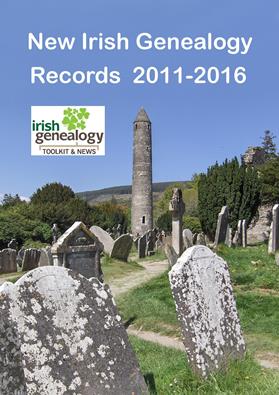 This booklet is an update of the 2011-2015 e-book, with an extra ten pages of listings.  In order to keep the overall pdf size similar to last's years version,  I've condensed the text of some of the original entries and reduced the size of pictures to some extent. Other than these changes, the e-book is pretty much unaltered in design and layout, which feedback tells me was suitably easy to work around. 
As previously, I can't guarantee that I've included each and every potentially new resource, but I think I've caught most in my net. All of the collections featured in the e-booklet were the subject of posts on my blog Irish Genealogy News at the time of their release.

Irish Genealogy Records Released 2011-2016 won't tell you what to do with all these new toys (it's not a 'how-to' guide... this website does that job!). It simply sets out all the new, mainly online, records at your disposal.
It's arranged by type of resource ie Census, Newspapers, Military Records etc, and also county-by-county, becoming a handy aide-memoire of recently-available resources useful to Irish family historians.
Take a look at this free 7-page sample (2Mb) from last year's ebooklet..

The complete 94-page e-booklet is available as a pdf download (it's just over 8Mb).