In a couple of weeks, a fresh edition of New Irish Genealogy Resources will be published. I had hoped to have it ready by St Patrick's Day, but a serious facial injury sustained by a member of my family last month has required a complete reschedule of my diary, and I'm now running two weeks behind.

As things stand today, I'm pretty sure I can publish New Irish Genealogy Resources 2020 during the week beginning 30 March. Following the same popular and easy-to-use format as all previous editions, the new edition will provide brief details of all* brand-new and upgraded Irish genealogy records released in the nine years from January 2011 to March 2020.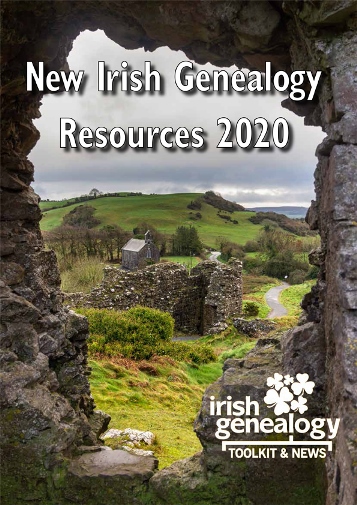 It's been a golden period for Irish family historians, with new records appearing online almost every week. The benefit of my ebook is that all the releases are noted in it, with a brief description and links to where each collection can be accessed, online or offline.

New Irish Genealogy Resources 2020 won't tell you what to do with all these new toys (it's not a 'how-to' guide... this website does that job!). It simply sets out all the new, mainly online, records at your disposal.
It's arranged by type of resource ie Census, Newspapers, Military Records etc, and also county-by-county, becoming a handy aide-memoire of recently-available resources useful to Irish family historians.
Take a look at this free 7-page sample (2Mb) from the 2011-2015 ebooklet.

The 2020 edition will be larger than the 2019 edition of 102 pages. In recognition of the coronavirus outbreak, it will include a selection of podcasts and videos of interest to Irish family historians who may be self-isolating. I will try to ensure it wraps up at under 10Mb.
*As with previous editions,  I can't guarantee that I've included each and every record release during the last nine years, but I think I've caught most in my net. All of the collections featured in the e-booklet were the subject of posts on my blog Irish Genealogy News at the time of their releases.