Irish genealogy special offers come in all shapes and sizes and are announced to coincide with traditional festivals (St Patrick's Day/Christmas, for example) and at steady intervals throughout the year.
This page of Irish Genealogy Toolkit is updated regularly, so be sure to bookmark it if you want to be sure of picking up a bargain and keeping the cost of your ancestral search under control.
Here are the current* Irish genealogy special offers and discounts:
* page last updated at 27 March 2017
One-third off annual subscription to RootsIreland


RootsIreland.ie, the online database of Ireland's island-wide network of local genealogy and heritage centres, has announced a terrific discount offer with a one-third reduction on annual subscriptions  running from now until Monday 27 March. That's not only a good-sized saving, it's also a relatively rare price-cut – RootsIreland doesn't run too many special offers.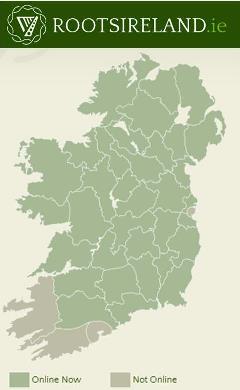 The unique database has more than 20million records, the majority of them church register transcriptions. In addition to Roman Catholic records up to the 1920s, the site has the only sizeable collection of transcribed Church Of Ireland, Presbyterian, Methodist, Baptist and Congregationist registers. It also has full transcriptions of civil registration birth and marriage records for about half the island.

As you can see from the map, right, RootsIreland's coverage extends across most of Ireland. You can check the precise records it holds for each county using the site's Online Sources widget.

The current Special Offer reduces the cost of the RootsIreland 12-month subscription to €150 (down from €225); £123 (down from £185); and $170 (down from $255).

FindMyPast.com launches Starter subscription with 70% discount


A
new 'Starter' subscription
has been launched by FindMyPast.com aimed primarily at beginner family historians in the United States.
The launch offer comes with a huge 70% discount on the 12-month option, reducing its cost from $114.50 to just $34.95. (The monthly option does not attract a discount; it costs $9.95 a month.)
As well as access to FindMyPast's online family tree builder, the Starter subscription includes more than 2.9 billion records including:
US immigration & travel records: This collection includes records of people leaving the UK between 1890 and 1960, and passenger lists from states including Florida and California
US birth, marriage and death records: Notable record sets in our Starter Package are CA births and marriages, NY marriages and SC deaths. FindMyPast's comprehensive marriage collection, spanning 360 years, is not included (see Premium)
US Newspapers: Historic newspapers are a valuable – and often underutilized – resource for family history researchers. They contain family announcements, details about criminal cases, military commendations and much more.
UK & Irish Censuses: Essential for Americans with Irish or British heritage.
Access to FMP's free collections of US census records and Irish Parish Catholic Registers.
For comparison, the regular 'full' package, now known as Premium, costs $239.40 for a year or $19.95 for a month, and gives access to more than 8 billion records.