Home → A-Z of Irish family history records → Irish genealogy special offers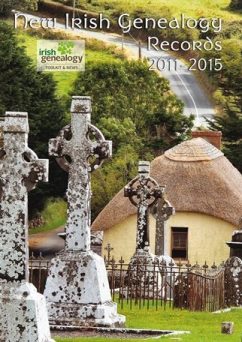 All the Irish genealogy sources released in the last five years are listed in my handy and attractive ebook
Irish genealogy - Special offers, discounts and deals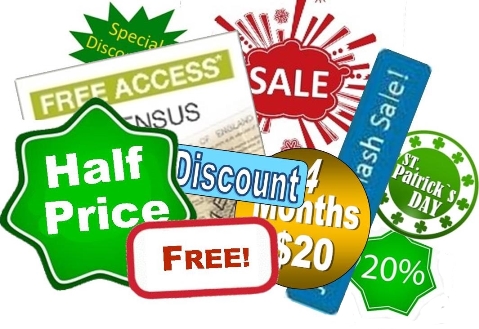 Irish genealogy special offers come in all shapes and sizes and are announced to coincide with traditional festivals (St Patrick's Day/Christmas, for example) and at steady intervals throughout the year.
This page of Irish Genealogy Toolkit is updated regularly, so be sure to bookmark it if you want to be sure of picking up a bargain and keeping the cost of your ancestral search under control.
Here are the current Irish genealogy special offers and discounts:
Irish Newspaper Archives: 30% discount


An interesting study – The Irish Famine Eviction Project – is underway to document evidence of evictions during the Great Irish Famine.
It's being co-ordinated by Dr Ciaran Reilly, author of several books on this period of history, who has created a dedicated website to pin-point the famine eviction sites and to record information and background stories about the people displaced and involved in the evictions.
More than 400 sites have already been identified and their locations fixed on a map, which can be viewed here.
The Project is now reaching out to researchers to ask them to submit any information of evictions, locations and local folklore. This could be additional information relating to an eviction already identified, or details of a new, as-yet-unidentified eviction. Details of how to submit information can be found on the site.
This collaborative phase of the project is being sponsored by Irish Newspaper Archives, in whose online database of historical newspapers many facts and details about evictions can be found. To assist researchers in helping the Irish Famine Eviction Project, INA is offering a 30% discount on its monthly and annual membership subscriptions.
To take up the offer, go to the Irish Newspaper Archives subscription page, choose your preferred package, and, when prompted, use the discount coupon code IFP30.
The discount offer runs until 31 October 2016.

FindMyPast.com launches Starter subscription with 70% discount


A
new 'Starter' subscription
has been launched by FindMyPast.com aimed primarily at beginner family historians in the United States.
The launch offer comes with a huge 70% discount on the 12-month option, reducing its cost from $114.50 to just $34.95. (The monthly option does not attract a discount; it costs $9.95 a month.)
As well as access to FindMyPast's online family tree builder, the Starter subscription includes more than 2.9 billion records including:
US immigration & travel records: This collection includes records of people leaving the UK between 1890 and 1960, and passenger lists from states including Florida and California
US birth, marriage and death records: Notable record sets in our Starter Package are CA births and marriages, NY marriages and SC deaths. FindMyPast's comprehensive marriage collection, spanning 360 years, is not included (see Premium)
US Newspapers: Historic newspapers are a valuable – and often underutilized – resource for family history researchers. They contain family announcements, details about criminal cases, military commendations and much more.
UK & Irish Censuses: Essential for Americans with Irish or British heritage.
Access to FMP's free collections of US census records and Irish Parish Catholic Registers.
For comparison, the regular 'full' package, now known as Premium, costs $239.40 for a year or $19.95 for a month, and gives access to more than 8 billion records.
Keen to start researching your Irish heritage and genealogy? Jump straight in at the Get Started page.