Top free Irish genealogy databases
Top free Irish genealogy databases online


The free Irish genealogy websites and databases detailed in my list are my personal, and completely independent selection of sites for family history research. These are the genealogy databases that I have found most useful to my own research and which I confidently recommend.
Although these sites are reasonably easy to use, the navigation or layout of such big genealogy databases 'improves' with familiarity. So you might do best to try to find out how the site works BEFORE you start hitting the Search button.
Each of these sites provides fabulously useful information and some even provide free access to data for which other sites charge. 
Not only do these sites provide free Irish genealogy info, you don't have to supply personal details or register with them. So they're free in every sense. Enjoy!
This list of free Irish genealogy websites is in alphabetical order:




Ask About Ireland

One of a new generation of free Irish genealogy resources to have come online in the last few years, Ask About Ireland brings the indexes, full returns and maps of Richard Griffith's Primary Valuation of Tenements to your computer screen free of charge.
The Valuation, as it is usually known, is one of the most important surviving 19th-century genealogical sources and plays a part in nearly everyone's Irish ancestry research as it records the names of householders in each county at the time this island-wide land survey was carried out. More about Griffith's Valuation here.
The Ask About Ireland site has improved considerably since its initial launch and it now among the most popular free Irish genealogy resources available. It does, however, seem susceptible to gremlins, particularly when trying to view maps.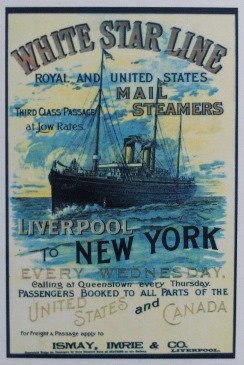 Calling at Queenstown (Cobh) every Thursday
Ellis Island Passenger Database

From 1892 to 1954, over twelve million immigrants entered the United States through Ellis Island, a small island in New York Harbor. Many of them were from Ireland.
If your ancestors left Ireland before, during or shortly after the Great Hunger (1846-1849), you won't find them on the Ellis Island Passenger Database.
But if they set sail in one of the subsequent waves of emigration, you may be lucky to find their details among the passenger manifestos displayed on this site. Those details show the address where the immigrant was headed and, sometimes even more importantly, they will usually record the traveller's place of origin in Ireland.
Family Search

A regular winner of worldwide polls for Best Genealogy Websites, Family Search is run by the Church of Jesus Christ of Latter-day Saints (Mormons) and contains a huge and freely searchable archive of family history collections.

Among its data are 1880/1881 census records for the US, UK and Canada, which can be extremely useful for those seeking family who had left Ireland by that date. But perhaps the most important free Irish genealogy resource is the searchable civil registration index. This includes births, marriages and deaths for the entire island from 1864 (1845 for non-Catholic marriages) to 1921. From 1922 to 1958 inclusive, it covers only the Republic of Ireland.
Find out more about the indexes, and how to use them to obtain birth, marriage and death certificates, on my Irish Civil Registration page.
All the collections available free on the National Archives of Ireland's Genealogy database (see below) are also available free on FamilySearch.
A useful collection is the 1619-1898 Ireland Marriages Index; it holds nearly half a million entries gathered from different sources. Geographical coverage is patchy, but you may be lucky.
Images of the Registry of Deeds memorials and various indexes were released online in 2016. These are unindexed but can be used if you are researching known names and residences.
IrishGenealogy.ie
Owned and managed by the Department of Arts, Heritage and the Gaeltacht, the free IrishGenealogy.ie is best known for its church register and civil records collections, as follows:
Church records. The only negative about this excellent database is its very limited coverage. It holds the following collections: Church of Ireland registers from some parts of counties Kerry, Dublin City and Carlow;  Presbyterian records for Dublin City; and RC records from Dublin City and counties Kerry and Cork. If you have ancestors of these denominations from the relevant area, consider yourself blessed!
Civil registration records. The site provides access to a state-sanctioned version – the one used by General Register Office staff – of the Irish civil registration indexes and registers. Unlike other versions found on other sites, this version includes maiden names of mothers in the birth indexes from 1900 and presents post-1870 marriages with the names of both bride and groom together.
The only drawback of the civil registration site is that it makes available only the 'historical records' ie births up to 100 years ago, marriages up to 75 years ago, and deaths up to 50 years ago.
Images of the bmd registers themselves are available to download for all births from 1864 to the 100-year cut-off; for all non-catholic marriages from 1845 to 1863, and all marriages from 1864 to the 75-year cut-off; and for all deaths from 1871 to the 50-year cut off.
Images of death registers dating 1864-1870 have yet to join the database.

National Archives of Ireland
For many researchers, the National Archives of Ireland's dedicated Genealogy site takes pride of place among the top free Irish genealogy database. Its most popular resources are the fully digitised 1901 and 1911 census returns. In addition to a searchable index, you can downland images of the census returns, including the household returns and the enumerator's returns. An 18-month project to appraise and apply tens of thousands of user-submitted corrections to the database completed in 2019.
While some commercial websites offer the NAI's census collection, these corrections are exclusive to the NAI's Genealogy site. 
(For details of what information the different returns contain, see my pages: the 1901 census and the 1911 census).
Other resources freely available are the Tithe Applotment Books (for counties now in the Republic of Ireland only). This collection dates back to the 1820s but not everyone will find records of their ancestors; find out more about the TABs here, before you search the records.
The site also holds a collection of World War One Soldiers' Wills, the calendars of Wills and Administration 1858–1922, Census Search Forms, the 1821-1851 'Census Fragments' and more.
National Library of Ireland

In the summer of 2015, the National Library of Ireland released a new database holding images of the Library's Roman Catholic parish registers microfilm collection.
The site is easy to use and free, and Irish family history research will never be quite the same again! Having said that, it will not help every genealogist with Irish Catholic ancestors.
The main obstacle is that the images have been released without an index, so you need to have a good idea of which parishes to research to have any chance of finding your family. However, almost immediately after the images went online, Ancestry and FindMyPast got their heads and digitising resources together and created a single index. It can be accessed via Ancestry (subscription required) and FindMyPast (no fee or subscription... you just need a registered account). 
So far, so good. But some researchers will be disappointed by the availability of surviving records. While the cut-off date for all the records is 1880/2*, the start date depends on when the parish started keeping records and how well they were stored. Some start from the 1740s, others start 100+ years later.
So, for example, the Library's baptism and marriage records for Killian parish in Co. Galway date back to 1804. For the parish of Clarenbridge in the same county, baptism records start only in 1854 while marriage records start from 1837.
This means that a researcher looking for a Catholic ancestor born in 1810 in Killian should find a baptism record, but if that same ancestor were from Clarenbridge, there would be no surviving record of the event.
More about Roman Catholic baptism, marriage and burial records.
PRONI
Established in 1923 following the partition of the island into the Republic of Ireland and Northern Ireland, the Public Record Office of Northern Ireland (PRONI) is the official repository for public records for the six counties of Antrim, Armagh, Derry-Londonderry, Down, Fermanagh and Tyrone.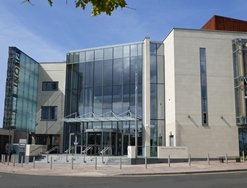 The Public Record Office of Northern Ireland, Belfast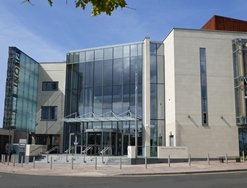 The Public Record Office of Northern Ireland, Belfast
It's an essential and free Irish genealogy and history site for researchers hunting details of their ancestors from Northern Ireland. It offers multiple online databases. Among them are records of pre-1840 freeholders, will calendars, Griffith's Valuation Revision Books and details of those who signed the 1912 Ulster Covenant.
Recent additions to the line-up are digitised copies of the Tithe Applotment Books for the six counties now in Northern Ireland (you can learn more about the TABs, and how to use PRONI's database catalogue, on this page of Toolkit), and school records.

In addition to databases, you can also download several very useful advice guides specific to Northern Ireland research.
Townlands Database

This Townlands database is a revised version of the well-known 'Sean Ruad' IreAtlas database. It holds details of all 60,000+ townlands as they appeared in the Index of Townlands, which was used for the 1851 census. It details the name of the County, Barony, Civil Parish, Poor Law Union and Province for each location.
It's hosted on swilson.info, the website of genealogist Shane Wilson. It's an important and free Irish genealogy site, crammed with useful finding aids and databases. The Townlands Database is just one of them and it helps you to find the various jurisdictions in which any given Irish townland is located. Since each jurisdiction keeps different kinds of records useful to genealogical study, it is critical to know the jurisdictions which covered your ancestor's birthplace or home.
An alternative Townlands database to consult is held on IrishAncestors.ie the website of the Irish Genealogical Research Society. This Townland database is based on the Index of Townlands used for the 1901 census. As well as including the Province, County, Barony, Poor Law Union and Civil Parish, it offers the DED – the District Electoral Division. This is a very useful extra when searching the 1901 and 1911 censuses.
The Family Tree Irish Genealogy Guide

Written by the creator of Irish Genealogy Toolkit and Irish Genealogy News, 'The Family Tree Irish Genealogy Guide' is full of advice, tips and strategies to ease what can be a challenging journey.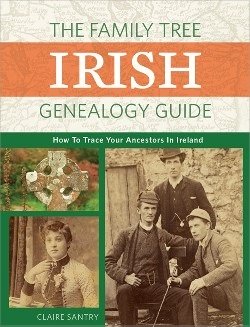 Click/tap image for more details
Its guidance will be useful to any researcher of Irish heritage, but especially for the target Irish-American researcher who's struggling to work back to Ireland from their immigrant ancestor.

Publisher: Penguin
ISBN: 9781440348808 / 240 pages.