Home → Northern Irish family history sites
Best sites for Northern Ireland genealogy research


Choosing the best sites for genealogy research in Northern Ireland is tricky because so many websites relevant to research in the Republic of Ireland are equally relevant north of the border.
For clarity's sake, therefore, I chose a handful of databases that specifically target Northern Ireland genealogy research and would suggest that anyone tracing Irish ancestry in the six counties also takes a look at my other lists of (both free and pay-to-view) online resources.
There are links to those lists at the bottom of the page, under the heading Related Pages.
Each of the websites or databases below has earned its place in this short list by offering free access to a good proportion, if not all, of their information.
The sites are listed here in alphabetical order.
Ancestry Ireland
Ancestry Ireland is the site of the Ulster Historical Foundation, one of the major genealogical research agencies, family history publishers and education providers operating in Northern Ireland. The company is based in Belfast.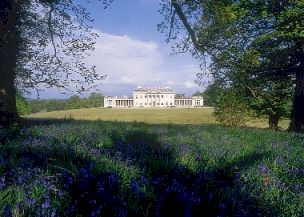 Castle Coole is a magnificent neo-classical house located near Enniskillen, Co. Fermanagh.
The organisation specialises in undertaking Irish and Scots-Irish research and runs both study programmes and a membership association called the Ulster Historical and Genealogical Guild.
The Records section of AncestryIreland offers a good number of items of genealogical interest. Among these are detailed civil parish maps and lists of townlands per county, a small selection of ebooks, and a searchable database containing birth, marriage and death records, plus gravestone inscriptions, street directories and much more.
There are also a handful of free to search and view collections.
Eddie's Extracts
All manner of records can be found within Eddie's Extracts. As its name suggests, it's a collection of records that Eddie (Connolly) has extracted from a number of sources, principally newspapers.
These include notices of births, marriages and deaths; rolls of honour (war dead), court reports, inquests and books. It's particularly strong on Presbyterian records, but really, anyone carrying out genealogy in Northern Ireland ought to take a good look at Eddie's collection. And it's all free, too.
Emerald Ancestors

Emerald Ancestors is a subscription-only site specialising in Northern Ireland genealogy records.
Its database includes a selection of parish baptism registers covering the period 1796 to 1924, and parish marriage registers from 1823 to 1901 for the six counties that now make up Northern Ireland.
The death records collection is made up of graveyard inscriptions, burial registers and a comprehensive index from the Irish Wills Calendars for the six counties plus Donegal, Louth and Monaghan.
In addition, it holds extracts from the 1841 and 1851 Irish census as well as 'church censuses' and school registers. A good overview of its holdings can be found here.
A one-month subscription costs £9.99, six months £29.99; one year £49.99 (as at September 2015).
GRONI
At the end of March 2014, the General Register Office of Northern Ireland (GRONI) launched its online family history service. While this is free to search and some researchers will find some of the details returned by the free search to be useful, most people will need to access additional information for which they must pay by credit/debit card. Fortunately, the fee structure is quite bearable.
(See also Irish Genealogy Toolkit's Northern Ireland civil registration records page.)

PRONI
Established in 1923 following the partition of the island into the Republic of Ireland and Northern Ireland, the Public Record Office of Northern Ireland (PRONI) is the official repository for public records for the six counties of Antrim, Armagh, Derry (Londonderry), Down, Fermanagh and Tyrone.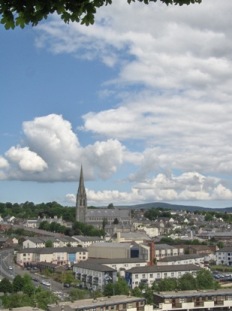 Great view from the medieval walls of Derry-Londonderry
This free site offers databases containing details of those who signed the Ulster Covenant (1912), records of pre-1840 Freeholders, and Will calenders, 1858-1965. In addition, more than 93,000 transcribed wills can be viewed.

It also provides free online access to the Revision/Cancelled Books, which continued the work of Griffith's Valuation from the mid 19th century to the 1930s. More about the Revision Books.
You can also download several very useful advice guides specific to Northern Ireland genealogy research such as National School Records.
Church Records: PRONI's website also provides details of which microfilms or paper records are available for viewing at PRONI for each church and for which years.
Ulster Ancestry

While the business of much of the Ulster Ancestry site is to target potential paying customers, it also has a large and very useful selection of free databases. These include muster rolls (dating back to 1631), local directories, gravestone inscription, clergy lists, some marriage records and a significant number of ship passenger lists.
Fascinating stuff. And the site owner is to be applauded for placing it online for free access.
Ulster Directory

Although the ebook of the Belfast and Ulster Directory for 1852 has to be purchased, the more recent edition, published in 1910, can be searched freely from this page. A list of 160 towns is linked to individual pages giving brief details of the town (market day, number of inhabitants), information about post office officials and local places of worship (and their clergy), plus a list of adult inhabitants, their occupations and, in some instances, their address. This directory is unlike most others published before it, which tended to list only gentry, local officials and tradespeople.
Although much of the information about individuals is now freely available on the 1911 census, the different format (plus additional information about the 'social structure' of each community) means this database remains a useful addition to Northern Ireland's genealogy resources.
The site also has some pedigrees and a good range of 1862 Directories for Ulster and the Republic - and all free.
Related pages

Don't limit your family history research to sites that are dedicated purely to Northern Ireland. Genealogy records for Counties Antrim, Armagh, Derry-Londonderry, Down, Fermanagh and Tyrone are also held in the Republic.