Home →
Irish church records
→
Church of Ireland
How to trace ancestors in Church of Ireland records


How to trace ancestors in Church of Ireland records


Christchurch, one of two Church of Ireland cathedrals in Dublin. The other one is St Patrick's.
To trace ancestors in Church of Ireland records you need to know the townland or parish where they lived (see Hunt the Townland page).
Assuming you have this information, you'll need to appreciate the availability (or lack of it) of surviving parish registers.

What survives?
The good news is that Church of Ireland registers generally start a lot earlier than those of most other faiths in Ireland.
This is because it was the Established or State Church and, as such, was legally obliged to keep records.
Until 1871, the Protestant Church of Ireland was the Established (State) Church of the island.

The Church of Ireland is a Protestant Church that was, until 1871, the Established (State) Church of the island.
This obligation dated back to the 17th century when baptisms and burials of Irish Protestants started to be recorded. This process began with urban areas and gradually spread out to the surrounding countryside but it was more than 100 years before some rural parishes were created.
This is why the majority of registers don't begin until the late 18th or early 19th century.
And now the bad news. More than half of all Church of Ireland registers were destroyed in the 1922 fire at the Public Records Office in Dublin. Ironically, they had been ordered to be sent there for safe keeping.
That order had been made in 1876, a few years after the dis-establishment of the Church of Ireland as the state church. All its old registers, being state records, had to be sent to the Public Record Office unless the local clergy could demonstrate that they had suitable safe storage for them.
Nearly 1000 parishes had decided to comply with the order to surrender their original registers to Dublin.
Fortunately, some clergymen made transcripts before parting with them. Another 637 parishes had not complied with the order and those registers survive.

Where to trace Protestant ancestors online
A good number of Church of Ireland registers of baptisms, marriages and burials have made their way online over the last five years or so. The following databases hold the most significant online collections:
RootsIreland – This pay-to-view database holds millions of Church of Ireland records, but is not, by any means, a complete collection. To trace ancestors through this service, you will, in the absence of an exceptionally unusual name, need to be able to narrow down the area you are searching to county level at least.
Even then, you could spend a lot of money! If you are reasonably confident of the locality, be sure to look at the Sources list for the appropriate county to check that the correct parish is included.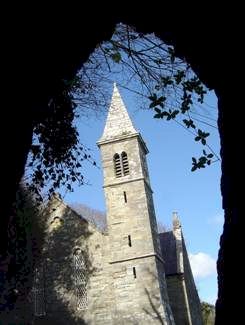 Christ Church, Kilfaughnabeg, Glandore, Co. Cork.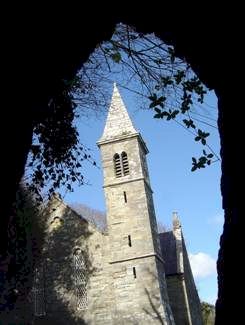 All records on RootsIreland are transcriptions; there are no images of the parish registers.
IrishGenealogy – Through this government-funded site you can trace ancestors through Church of Ireland records in counties Carlow and Kerry and in Dublin City. The searchable site provides transcriptions and images, and they're free.
The Anglican Record Project - Transcriptions and some images available free to view on-screen or by downloading pdfs. Managed by the Representative Church Body Libary.
FindMyPast – There are a very limited number of Church of Ireland records (just three parishes at October 2015) in the Irish collection of the FindMyPast database.
Where to view Church of Ireland parish registers offline

The Representative Church Body Library in Dublin: The largest collection of registers (including those from some non-parochial ministries such as cathedrals, military chapels or chapels of ease) is held by the Church of Ireland's Representative Church Body Library (RCBL). The Library holds the oldest surviving Irish parish records – the baptism, marriage and burial registers of St John the Evangelist in Dublin – which date from 1619, and its collection grows every year as more parishes hand over their records for safekeeping.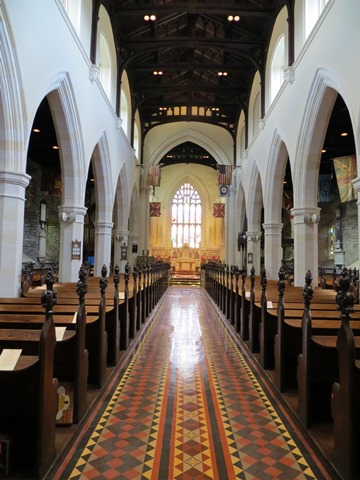 St Columb's Cathedral, Derry City.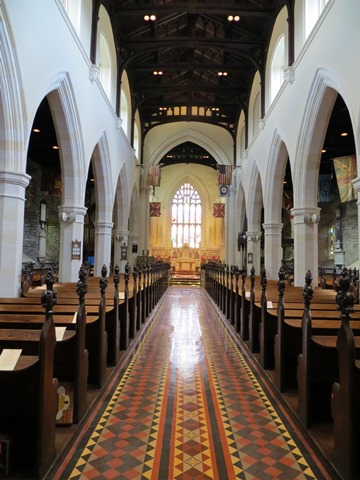 In July 2014, the RCBL delighted researchers when it published a free-to-download Table of Parochial Registers Throughout Ireland (750kb pdf). This indispensable 98-page document lists not only the RCBL's own collection of registers and transcriptions, but all Church of Irleand parish registers – whether they survive or not – from both the Republic of Ireland and Northern Ireland. The dates of those that survive are also set out in the document, as are their current whereabouts. The Table is being regularly updated.
The registers held by the RCBL are available to personal visitors to the Library. The Library's staff do not carry out any genealogical research. However, they have transcribed 12 registers for purchase (details here).
The Library is also the online host of the Anglican Record Project which transcribes registers and makes them available by free downloadable pdf.
Contact: RCBL, Braemor Park, Churchtown, Dublin 14. Tel: 00 353 (0)1 492 3979. Email: library@ireland.anglican.org.
The National Archives of Ireland (NAI) has microfilms of about 350 Church of Ireland registers. These are on free public access and include many of the original registers now held at RCBL.
No appointment is necessary, but you need a Reader's Ticket to use the Reading Room which is open from 9:15am-5pm Monday to Friday. Details at www.nationalarchive.ie. Although there is a free genealogical service at the NAI, it is available only to personal visitors. NAI staff do not carry out genealogical research.
Public Record Office of Northern Ireland (PRONI): Surviving Church of Ireland records for all Ulster counties, plus those for Leitrim and Louth, can be viewed on microfilm at the Public Record Office of Northern Ireland (PRONI). You need a Visitor's Pass if you want to trace ancestors through these records. Hours 9.00-4.45 Monday to Friday plus a later evening closure on Thursdays.
Contact: PRONI, Titanic Boulevard, Belfast BT3 9HQ. Tel: 00 44 (0)29 9025 5905. Email: proni@dcalni.gov.uk. More details.
Local Custody: In view of what happened to the registers when sent to a state archive (see Did all the records burn?), the Church of Ireland is understandably nervous about releasing originals from its own safekeeping. Many originals remain in local custody. While some are handed over to RCBL every year, there doesn't seem to be any great rush from the local clergy to relieve themselves of the responsibility of caring for their historical documents.
It is, therefore, necessary for researchers to consult the Table of Parochial Register Throughout Ireland (see link above) and, if still in local custody, to contact the church to find out what access arrangements are in place for family historians to view the original pages. When a transcript or microfilmed copy is available elsewhere, local clergy often keep their originals under permanent lock and key.


Contents of Church of Ireland records
Irish baptism records: Church of Ireland baptism registers usually give the child's name, the father's full name and at least the mother's first name. In most cases, the mother's maiden surname is not provided. Sometimes a townland or urban street name is included.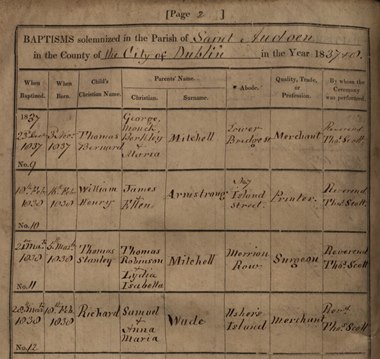 After 1820 it became more common for the clergy to record the father's occupation and the child's date of birth. The latter can be an important addition because some families waited several months to baptise their infants.
Marriage records: A typical entry in an early marriage register would record the full name of the groom, the full name of the bride, the date of the wedding and the name of the officiating clergyman. And that was it.
Burial records: The majority of Church of Ireland clergymen also recorded burials as well as baptisms and marriages.
Burial registers usually give the name of the deceased and date of burial. Sometimes the residence of the deceased (ie the townland) is provided, and sometimes the deceased's age.
Where next?