Home →

Irish Church Records
Irish church records

Part 1: Overview
For Irish family history research pre-1864, you will usually need to get to grips with Irish church records. For births, marriages and deaths after that date, your ancestral search is best directed towards the Irish civil registration system.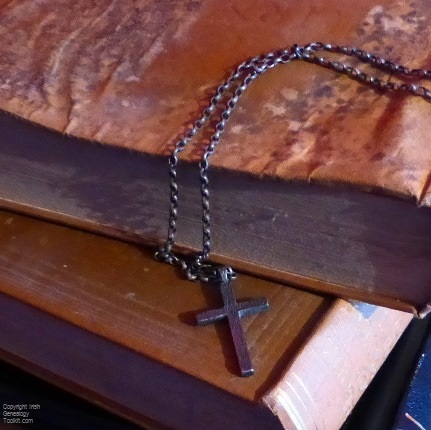 Two pieces of information are crucial before you can realistically expect to trace your ancestors in Irish church records:
The name of the place (town or village) where your family lived
Your ancestors' religion.
This is because parish registers were collected locally and remain, generally speaking, accessible at a localised level.

While there has been a concerted effort in recent years to gather these local collections into indexed, online sources via RootsIreland.com and IrishGenealogy.ie, not all churches and heritage centres have been willing or able to pass on their resources.
The two global database providers, Ancestry and FindMyPast, have relatively few Irish church records in their collections (this may change shortly) and won't be your first port of call for this group of genealogy resources.

Costs: There is huge disparity in the cost of using online resources; while RootsIreland, Ancestry and FindMyPast charge subscription fees for access to their resources, IrishGenealogy.ie's collection is free. So too, is the National Library of Ireland's database of images of Roman Catholic parish registers.

The price of access may therefore be an issue when you start exploring Irish church records.
Do the records exist? A second problem may occur – and it's galling where it does – if the registers no longer exist for the parishes where your ancestors lived.
For example, in the parish of Emlafad and Kilmorgan in Co. Sligo, the Church of Ireland registers for each of baptism, marriage and burial go back to 1762.
Excellent news for anyone who's trying to trace their family of Protestants hailing from near Ballymote.
But the news isn't so good if your ancestors from that area were Roman Catholics. Catholic baptism and marriage records for this district survive, with gaps, from 1824; indexed baptism records from 1824-1856 can only be accessed, for a fee, locally; and there are no burial records.
It could be worse! In the neighbouring parish of Achonry there are no surviving registers for either religion prior to the introduction of civil registration.
St Kevin's Church, Glendalough, Co Wicklow
This means that 1864 is your cut-off for birth and death records if you are hoping to trace your family history in and around Tubbercurry.
The same applies for Catholic marriages (but there are civil records for non-Catholic marriages throughout Ireland back to 1845).
Obviously, this seriously limits the depth of your ancestral research.
There is really nothing much you can do about this except accept it.
And perhaps hope that by some miracle a copy of the local parish registers might, one day, be discovered intact and legible.
Where to start

Location: To trace your family in Irish church records you have to know where your ancestors lived.
This means knowing the parish.
The county, alone, will not help you much.
If you haven't yet discovered the locality, you'll need to work on finding an exact place of origin, preferably a townland, but a civil parish will do.
It's also worth making sure you understand the system of Irish parishes and other land divisions and how this may impact on your search. (See Quick Links below.)
Religion: Do you know the religion of your ancestors?
Most researchers will be able to make an educated guess about this based on the faith of more recent relatives, but be prepared for the unexpected.
In my own Irish ancestry search I was awash with Roman Catholics on every branch and twig of my family tree, but I found one lone Methodist: my gt gt grandfather, George Nichols, born in Dublin in 1844. I was really surprised.
He had married a Roman Catholic and his six children were brought up as Catholics, but he declared himself a Methodist on both the 1901 and the 1911 census.
No wonder I hadn't found his Catholic baptism record where it 'should' have been!
Locate the records: See Part 2.

---