Genealogy Discounts
Irish genealogy - Special offers, discounts and deals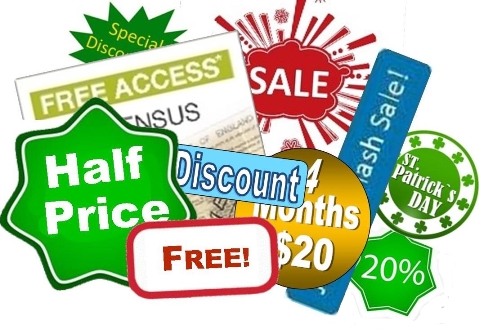 Please see my Advertising Disclosure statements HERE
Genealogy discounts and offers come in all shapes and sizes and are announced to coincide with traditional festivals (St Patrick's Day/Christmas, for example), newer commercially inspired events such as Black Friday and Cyber Monday, and at steady intervals throughout the year.
This page of Irish Genealogy Toolkit is updated regularly, so be sure to bookmark it if you want to be certain of picking up a bargain and keeping the cost of your ancestral search under control.
Here are the current special offers and discounts likely to be of interest to Irish genealogists:
Last update: 24 April 2022


Half price access to the 1921 Census of England & Wales


FindMyPast is offering half price access to the 1921 Census of England and Wales this weekend. This record set, released in January, is available exclusively online at FindMyPast.
The special offer can be taken up by anyone with a registered account, which you can quickly set up using just your name, email address and your chosen password.
There's no coupon/promo code. The discount will be automatically applied at checkout and applies only to 1921 Census record image and transcript purchases.
The offer will expire on Monday 25 April at 23:59pm BST (GMT+1 / London + Dublin time).
To make a worthwhile saving and track down any ancestors among the 38 million people in England or Wales on 19 June 1921, click on your preferred flag below.



Gift packs of Irish Roots magazines


Irish Roots, Ireland's only independent genealogy magazine, has a great gift idea for the genealogist in your life (or treat yourself...  go on, you deserve it).
The quarterly magazine is published in County Wicklow and brings you advice on traditional family history research as well as genetic genealogy; guidance on finding resources for specific areas of Ireland, and on themed collections in North America and Australia; details of newly released or enhanced record-sets; news and comment from Irish genealogy and local history groups; plus Q&As and news of developments relating to Irish genealogy.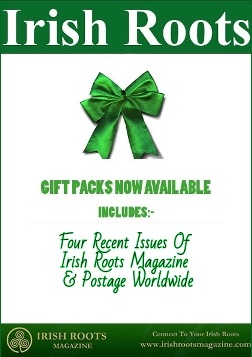 In other words, it's a useful and informative read for Irish genealogists of all levels of experience.
Gift Pack of 4 recent editions, including postage:  €25 (IE); £25 (UK); US$30 (USA); $38 CAD (Canada); $40 AUD (Australia).

One-year subscription, including postage: €30 (IE); £32 (UK); US$42 (USA); $45 CAD (Canada); $47 AUD (Australia).
One-year Digital subscription: €15.99 (IE); £13.73 (UK); US$ 18.91 (USA); $ 23.96 (Canada); $25.64 AUD (Australia)
On the order page, select your preference under Product Categories. You can click 'switch currency' to find your preferred local currency price.

Save up to US$70 on Y-DNA test kits


To mark DNA Day, Family Tree DNA is offering some generous discounts across its range. There's $20 off M-dna, and a saving of up to $70 on Y-dna products.
Click the image below to explore the site and find out more.
---
Keen to start researching your Irish heritage and genealogy? Jump straight in at the Get Started page.