Next steps in Irish family history
Irish family history: next steps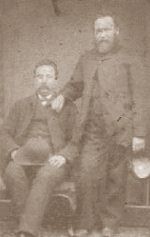 John and George Nichols
If you've already taken your first steps to tracing your Irish family history, it's probably a bit late for this warning, but I'll give it anyway: Be aware that hunting for and finding ancestors, especially in Ireland, is an addictive pastime. If you want to jump ship, this may be your last chance!
Of course, if you've already enjoyed the thrill of discovering a previously unknown ancestor or have recently uncovered some unexpected information about your forebears, you are quite likely to already be hooked. Don't worry. You're not alone. Irish family historians are harmless enough and the addiction will bring you pleasure in spades. It's even legal!
Trouble is, like most addictions, it makes us impatient. So, too, do our modern lives. "Now! Now! Now!" is the mantra of the 21st century and we are all guilty of expecting the answer to practically every question to be waiting for us on the Internet.
Irish genealogy isn't like that (nor is any genealogy, come to that.)
Accept that finding your ancestors in Ireland is unlikely to happen in two clicks of a mouse. It may take months or years. So slow down, enjoy the hunt, and savour the experience.
Your next steps will depend on what you already know after your initial research but will probably include some or all of the following:
Find out what Irish family history sources are available locally to where you live
Check legal documents such as wills and probate
Place queries on online message boards and genealogy forums
Commission a professional genealogist
Learn more about the history of Ireland
Visit the area of Ireland where your ancestors lived.


Toolkit Top Tip
Don't ignore siblings!
Once your Irish genealogy project is underway, be sure to include the brothers and sisters of your direct ancestors.
Apart from adding depth and extra colour and personality to your Irish family history, members of this extended family might have left behind important records that your direct ancestor didn't.
Often, siblings or cousins will supply a clue that can launch you over one of the brickwalls you will occasionally encounter in your direct path.
There is no hard and fast rule about where you start on this second stage of your genealogical research. What you already know will make some of these suggestions more relevant than others.
For example, if you don't have a pretty good idea of where your ancestors used to live in Ireland, many online records are effectively off-limits. But if you know the surnames of both parties to a marriage, and an approximate date (after 1845 for non-Catholics, after 1864 for Roman Catholics), it might be better to head straight to the civil registration indexes.
You'll have to use your own judgement (or commission a professional genealogist).
Irish Genealogy Toolkit will help you to develop that judgement.
By following the links above or the buttons on the navigation menu at the top of the page, you'll gain an understanding of the most important Irish family history sources, find out what their limitations are, and learn to use them effectively when tracking your ancestors.