Home →

Irish Emigration
Irish emigration

... to America, Britain, Canada, Australia and beyond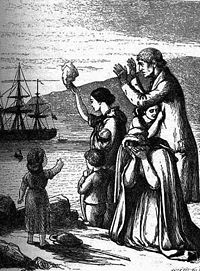 Irish emigration is a huge subject –- historically, socially and genealogically. This is borne out by the fact that some 70million people around the world claim Irish descent. In the USA alone, there are thought to be about seven times more Irish-Americans than the current population of the island of Ireland.
There are two groups of genealogy researchers to whom emigration from Ireland is of interest:
Those whose direct ancestors left the island and who wish to research their origins in Ireland
Those who already know their origins in Ireland and wish to research ancestors and/or extended family who left Irish shores
To both groups, I must first make clear that my experience is with Irish records, not British, North or South American or Australian genealogy records. As such, it is beyond my knowledge to explain how to conduct genealogy research outside Ireland.

However, what you will find on this section of Irish Genealogy Toolkit will still be helpful to your family history research. It includes useful background on the 'how and why' of Irish emigration, advice on locating and using passenger lists, an overview of the Irish immigrant experience in some countries, and a list of websites where you might start your research abroad.
If you are of Irish descent but do not live in Ireland, you need to work your family history back generation by generation until you 'find' your Irish immigrant ancestor. You then need to learn everything possible about that ancestor's life in his/her new home and to pinpoint their exact place of origin.
This genealogical research must be done in your own country before turning to Irish records. If you haven't yet begun this process, you will find these two pages particularly useful: Start Digging for your Irish Roots and Irish Ancestry: the hunt for the townland.
No centralised records of emigration exist in Ireland or Britain:  Where passenger lists were created, they were kept by the port of arrival, not departure. Then, as now, the authorities were more concerned with those who were entering their country than those departing it.
Irish Emigration in the 17th and 18th centuries
The earliest waves of Irish emigration date to the second half of the 17th century and the aftermath of the Cromwellian era. Most were Catholics. While significant numbers went voluntarily to settle in the West Indies, even more were transported there as slaves. The alternative route, which attracted many from counties Waterford and Wexford, was to Newfoundland.
To the typical Irish Catholic of the 17th and 18th century, the very notion of emigration went against the old Celtic traditions of extended family and clan relationships.
To leave your family, and your homeland, was considered an unbearable exile. For this reason, an ambition to find a better life overseas did not trouble the majority of Ireland's population, no matter the poverty they currently lived in or the oppression they suffered as a result of their faith.
In any case, where would they go? Catholic emigration to North America was forbidden by law until after the War of Independence. And since most lived on the poverty line (at best), how could they afford to pay for their passage? For most Catholic Irish famiiies, emigration was simply not on the agenda. Those that found the means and chose to sever ties with the old country usually sailed from Cork or Kinsale and small settlements evolved along the eastern coast of what is now the United States.
In the northern counties of Ulster, however, a different attitude held sway with a sizeable proportion of people.
Presbyterians, most of whom had Scottish ancestry, had also suffered discrimination in Ireland but they were not inhibited to the same degree by 'ancestral' connection with the soil. They sincerely believed they would find tolerance, freedom and happiness in North America.
They were also, to varying extents, more economically independent than their Catholic neighbours. Many were artisans, shopkeepers, or young professionals, and some worked in the Irish linen trade.
These early waves of emigration from Ireland were often in response to economic peaks and troughs.
Up to 1720, when New England was the destination of choice for most, the flow was steady but numbers were not large. Numbers rose at the end of that decade and then dropped again.
A famine in the early 1740s saw renewed interest in Atlantic passage, and Irish emigration never really subsided afterwards. In 1771-1773, more than 100 ships left the Ulster ports of Newry, Derry, Belfast, Portrush and Larne, carrying some 32,000 Irish immigrants to America. Meanwhile, a similar number set sail from Dublin, Cork and Waterford alone. Some of these would certainly have been Catholics. By 1790, the USA's Irish immigrant population numbered 447,000 and two-thirds originated from Ulster.
Back in Ireland, the population had grown from only 2.3 million at mid-century to as much as 5 million by 1800. The vast majority lived in poverty.