Whiskey Cake
Irish Whiskey Cake recipe

Irish whiskey cake is one of the most traditional of Ireland's best-known baked treats. Fancy versions, with all manner of spices, nuts and candied fruits, often appear at Christmas time or prepared for special family gatherings such as baptisms and birthdays.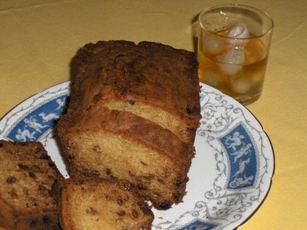 For presentation purposes, they might be baked in two cake pans and, after cooking, piled one on top of the other, separated by a butter icing layer. More icing is then spread across the top and decoration added. Or it might be a standard fruit cake which has been dosed with Irish whiskey during its maturity period.
Much simpler, lighter and cheaper versions are baked for weekends or for any occasion when friends or family might be popping in for afternoon tea.
My Irish whiskey cake recipe falls into this latter category. It's a tasty cake to share with friends, and the taste of whiskey is barely perceptible.
Nothing other than basic ingredients, a glug of whiskey, and a hint of orange is added, not even decoration. I bake it in a loaf tin rather than in cake tins and can promise that this pure and simple Irish whiskey cake goes down very well with a hot cup of freshly-brewed Barrys tea.
Taste that whiskey
My Irish whiskey cake recipe produces a cake that barely tastes of whiskey. That's how I like it.
But if you want to ensure your guests taste the 'craythur', here's what to do: After baking and while the cake is still hot and in its tin, prick the top with a skewer in several places. Drizzle a teaspoon or two of whiskey over. Allow to cool for 15 minutes before turning out.
Slaínte!
Ingredients for a 1lb cake tin:
1 Orange
2 tbs Irish whiskey
6oz sultanas
6oz butter
6oz caster sugar
3 eggs, beaten
8oz self raising flour
1 tsp baking powder
A pinch of salt
Method
Using a vegetable peeler, peel the orange thinly. Place the peel in a small bowl and squeeze 1 tsp of orange juice over it.
Add the sultanas and pour in the whiskey, lightly coating all the fruit. Cover and leave in a cool place for a few hours or overnight.
Heat the oven to 350F/180C/Gas4. Discard the orange peel from the small bowl. Grease the loaf tin.
In a mixing bowl, cream together the butter and sugar until the mix is fluffy, then add a little of the beaten eggs. Stir in. Continue adding the egg and mixing.
Sieve the flour, baking powder and salt together and gradually fold it into the mixture.
Stir in the sultanas and any remaining liquid.
Pour the mixture into the loaf tin (or cake tins if you are using them) and bake for 60-75 minutes until cooked through and the top is light to mid brown.
Check the cake after 20-30 minutes; if it appears to be browning too quickly, wrap some foil over the top.
Leave to cool for 15 minutes before turning onto a wire rack. Serve hot or cold, in slices.