Interviewing relatives, part 1
Finding family history in your relatives' memories

Part I - Family history interview preparation


The best place for finding family history is probably a lot closer than you think. No matter how many records are online, there is never likely to be a better source than your own family members for the tales and colour that reveal your ancestors' stories through the ages.
Just think about it. Your grandmother probably knew her grandmother. If she did, she can tell you about your great great grandmother. Depending on your own age, she may have tales and memories of people who were born 100 or even 150 years ago. Even if she didn't know these folk first-hand, she will most likely have heard family tales about them.
Interviewing her will provide information on four or more generations of ancestors without you having to consult a single written record, or pay a fee or subscription. That's why most genealogists will tell you that interviewing your relatives could be your smartest option for finding family history. Don't delay.
Preparation
Sketch out a provisional family tree before your visit a relative (see Part III - link below - for telephone interviews). Fill this tree with all the information you already have to hand. Don't worry about gaps. You can use this tree as a prompt for your relatives who can either confirm or question its contents, or fill in some of the gaps.
Gather your treasure! Finding family history mementos - especially photos - will be richly rewarded. Many people remember faces better than names and photos are an excellent way of jogging memories. Formal wedding photos can be especially useful.
Choose your candidates. Older relatives should be your priority because they are usually the best outlet for finding family history stories, but don't overlook younger family members. They have probably heard the stories from the older generation.
Keep your expectations realistic. Be sure of what you hope any single individual to provide. Unless your relative is a family historian, he or she is unlikely to have or know all the dates, names and locations you'd like to get your hands on. (Finding specific family history records before or after the interview is a better idea.) Instead, what they have are thoughts, feelings, motivations and perceptions. This is where you find the true colour in your family's story. Such unique details, which convey the essence of characters, places and relationships are lost when someone dies, so treasure them.
Decide which questions to ask your relative. These might vary from one relative to another, according to their relationship with your direct ancestors.
Sort out how you will record the interview. Are you going to rely on note-taking or will you record the conversation to machine? If the latter, ensure you are completely familiar with the equipment and check that it is working properly.
The Family Tree Irish Genealogy Guide

Written by the creator of Irish Genealogy Toolkit and Irish Genealogy News, 'The Family Tree Irish Genealogy Guide' is full of advice, tips and strategies to ease what can be a challenging journey.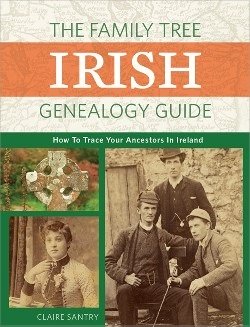 Click/tap image for more details
Its guidance will be useful to any researcher of Irish heritage, but especially for the target Irish-American researcher who's struggling to work back to Ireland from their immigrant ancestor.

Publisher: Penguin
ISBN: 9781440348808 / 240 pages.