Archives
Major Irish archives for genealogists

Most of the Irish Archives with significant collections of family history material are in Dublin and Belfast. You'll find their addresses and links to their websites below, along with details of a few specialist repositories that may be of interest depending on your own genealogical interests.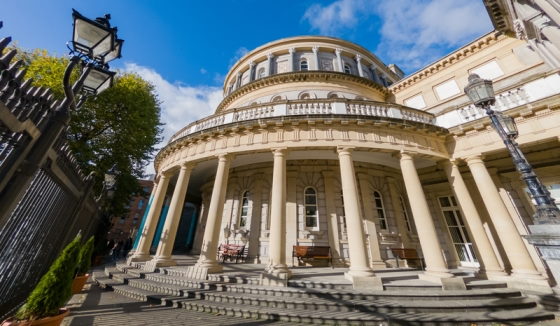 National Library of Ireland, Dublin.
Tips to maximise your Irish genealogy search at an archive:
Be clear about what you want to achieve. Archive offices are not the right places for rooting around in the hope of finding 'something'. Be specific. And make sure the archive you're going to visit holds those records.
If you haven't yet got your family history research up and running, an archive is unlikely to be the best place to begin. See Getting Started before making arrangements to visit.
The four most vital pieces of information you need for your family tree search in Ireland are: surname, religion, townland where they lived and approximate dates for when they lived there.
Bear in mind that most of Ireland's genealogy records are organised by townland name. Without this piece of information, it will be difficult to find your family in any UK or Irish archives (unless they have an unusual name). See Townland of Origin to see how you can find this crucial detail.
Main repositories with Irish family history holdings

Dublin City Library & Archive, 138-142 Pearse St, Dublin 2
General Register Office (GRO), Werburgh Street, Dublin 2
General Register Office of Northern Ireland (GRONI), NISRA, Colby House, Stranmillis Court, Belfast BT9 5RR
Land Valuation Office, Block 2, Irish Life Centre, Abbey Street Lower Dublin 1
National Archives of Ireland, Bishop Street, Dublin 8
National Library of Ireland, Kildare Street, Dublin 2

Presbyterian Historical Society Library, Assembly Buildings, Fisherwick Place,
Belfast, BT1 6DW
Public Record Office of Northern Ireland (PRONI). 2 Titanic Boulevard, Belfast, BT3 9HQ
Registry of Deeds, Henrietta Street, Dublin 1
Representative Church Body Library, Braemor Park, Churchtown, Dublin 14

Society of Friends Library, Swanbrook House, Morehampton Road, Donnybrook, Dublin 4
The National Archives (UK), Kew, Richmond, Surrey, TW9 4DU
Specialist Irish archives
► Centre for Migration Studies/Mellon Migration Centre, Co Tyrone

► Genealogy Research Centre - Glasnevin Cemetery
► Guinness Archive at Guinness Storehouse
► National Folklore Collection  See also free online database
► Irish Railways Society Archive