10 more Irish family names
More Irish family names

The Irish family names on this page include some of my own ancestors' surnames (so please forgive the domination of names from county Cork) and some that I've selected at random.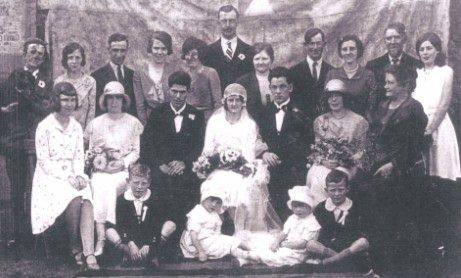 Just four surnames feature in this 1929 wedding photo: Doyle, Tierney, English and Gannon.
They are all fairly common names, and although they include some that are historically connected with a specific region, they are now encountered across Ireland. Surname origins or derivations are given where I've been able to find some consensus among research findings.
Callaghan:
From Ceallachan, meaning bright-headed, the name refers to a 10th-century king of Munster whose grandson took it as an hereditary surname. Originally based near Mallow in County Cork, most of the aristocratic O'Callaghans were forced to move to County Clare after losing much of their land in battle. Extended family remained, however, and nearly 50% of all (0)Callaghans in the mid-19th century were found in County Cork.
Connell:
This name derives from the once very popular first name 'Conall' so, given the 'ancestral' nature of Irish family names, it is no surprise that this surname is common in Ireland.
In the 19th century it was more typically seen without either an O or a Mac prefix, but this has completely changed over the last 100 years or so. Mac/McConnells in Ulster are usually of Scottish ancestry.
The most famous bearer of the name was Daniel O'Connell (1775-1845), the great Liberator, who fought for and won Catholic Emancipation in the first half of the 19th century.
Crowley:
Another of the BIG Irish family names centred on Munster, there were 1061 Crowley households recorded across Ireland in the mid-19th century; only 65 were not in the southwest province. Nearly 80% were in County Cork.
The name comes from Cruadhlaoich meaning 'hardy warrier' and is thought to have originated within a MacDermott family in the 11th century.
Driscoll:
Nearly always prefixed by O in modern times, the Driscolls were the powerhouse of the extreme south-southwest tips of County Cork, taking in the towns of Baltimore, Rosscarberry, Schull and Skibbereen, and the islands of Roaring Water Bay. With their domination of these coastal areas, they had a reputation for being great seafarers. In the mid-19th century, some 88% of Driscoll households remained in County Cork.
Grady:
Derived from 'grada' meaning 'illustrious', this was the name of an aristocratic family centred on counties Limerick and Clare. In the mid-19th century, there were 1103 Grady households; they were most numerous in counties Mayo (136), Galway (133), Limerick (113), Tipperary (112) and Clare (104). The O prefix has been reattached by most, especially in County Clare. A 17th-century branch of the family changed the name to Brady.
Higgins:
A great Gaelic name, not to be confused with the English name, Higgins derives from the Irish word 'uiginn' meaning Viking. It appeared as a surname when adopted by the descendents of a grandson of Niall of the Nine Hostages. Despite these Ulster roots, Higgins was primarily known as a Connacht name in the mid-19th century. With and without the O prefix, Higgins was the 79th most common of Irish family names in 1996.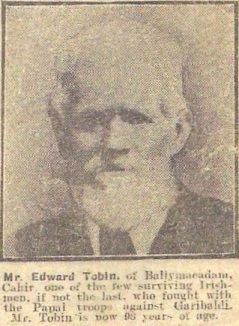 My great great grandfather Edmond Tobin of Ballymacadam, Co. Tipperary, was, according to this newspaper cutting, one of the last surviving members of the Papal Army which fought against Garibaldi in the 1860s.
Nolan:
From 'nuall' meaning 'shout', the early Nolans were perhaps a noisy lot who made themselves known to the Kings of Leinster and became hereditary princes of the present-day county of Carlow. It remains one of the most 'popular' of Irish family names in Carlow; while it has become widespread in Ireland, its stronghold is still Leinster.
Shea: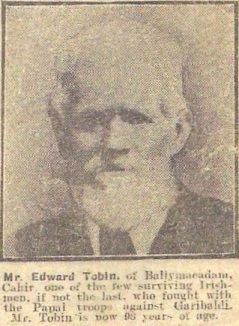 My great great grandfather Edmond Tobin of Ballymacadam, Co. Tipperary, was, according to this newspaper cutting, one of the last surviving members of the Papal Army which fought against Garibaldi in the 1860s.
O Sé in modern Irish, the anglicised version may be spelt Shea or Shee. The name comes from séaghdha, meaning hawklike or stately. The early medieval power base of the O Sheas was the Iveragh peninsula in County Kerry where in remains a very strong name.
In the early 14th century, a branch of the family migrated to Kilkenny (where the name is more likely to be O Shee) and became known as one of the 'Ten Tribes of Kilkenny'. Nearly all Shea/Shee families have resumed the O prefix in modern times.
Tierney:
There were around 900 Tierney households in the mid-19th century and they were concentrated mainly across the central third of the island. They were most numerous in counties Tipperary (151), Galway (111), and few had settled in the far north or far south. The name comes from 'tighearna', meaning 'lord'.
Tobin:
This name derived from 'Tóibín', the Irish version of St Aubyn. The latter was the original home of an Anglo-French family that settled in Kilkenny and Tipperary in the 12th century. Due to its Norman origins, it never carries a prefix.
In the mid-19th century there were more than 1,000 Tobin households, with the largest numbers (430) still to be found in those two counties.
Another 330 were in counties Cork and Waterford. Today, Tobin is one of the Irish family names most typically found in the southeast.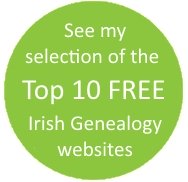 Did all the records burn??
The short answer is No, but the truth is a bit more complicated, because much of Ireland's genealogical heritage did, indeed, go up in flames at the Public Records Office in 1922.
Discover which Irish records burned, and which survived, and how this may impact your Irish family history research.
The Family Tree Irish Genealogy Guide

Written by the creator of Irish Genealogy Toolkit and Irish Genealogy News, 'The Family Tree Irish Genealogy Guide' is full of advice, tips and strategies to ease what can be a challenging journey.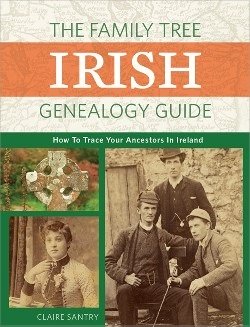 Click/tap image for more details
Its guidance will be useful to any researcher of Irish heritage, but especially for the target Irish-American researcher who's struggling to work back to Ireland from their immigrant ancestor.

Publisher: Penguin
ISBN: 9781440348808 / 240 pages.