Resources for places
Irish ancestry research - Free resources for finding a sense of direction


Your Irish ancestry research can really start to move on apace once you have a strong sense of the direction, the real geographical direction, it should take. At this stage you can start learning about the place of origin of your Irish ancestor.
Where will your Irish ancestry research take you?
Research can be closely geared to getting to know the locality and the surrounding area - even just the county, if that's all you're absolutely sure about.
Of course, you could just look online for some travel sites or buy a guidebook for the region you're interested in. That would certainly provide you with a flavour of the place.
But you'll also want to know about that place in history, and what it was like when your ancestors lived there.
The following websites (which are in no particular order) are great for just that.
They may not answer the question "Who are my ancestors?" but they'll certainly help you get to know the place where they lived, worked and loved.
What were Ireland's towns like in 1837?
Samuel Lewis's Topographical Directory, published in 1837, provides contemporaneous descriptions and statistics for counties, towns and villages across Ireland. Some of the details, particularly those referring to size and make-up of the local population, are taken from the 1831 census which was destroyed shortly after statistics had been extracted from it.
Providing some history of localities and vivid descriptions of churches, architectural styles and town layout, Lewis also included dates of markets and annual fairs, and details of a location's trade and industry, hospital, church and education facilities.
There's a lot to be gleaned from this resource. Even if your ancestors lived in the rural hinterlands, you can be sure they at least occasionally made the trip to their nearest town. Lewis's Topographical Directory gives a fascinating glimpse of what greeted them there in the decade before the Great Hunger ravaged much of the country.
The book is available online, and free, at LibraryIreland.
Lists of databases by county
Genuki (an abreviation for Genealogy UK and Ireland) is an outstanding resource, providing links to hundreds of sites that will be useful in your Irish ancestry research. Its aim is to serve as a virtual genealogical reference library and most of the information is provides relates to primary historical material.
It is a non-commercial site, operated by volunteers in co-operation with the Federation of Family History Societies and a number of its member societies.
On its pages you'll find all sorts of websites listed, most of them tightly targetted ie the sites of archives and local libraries, sites confirming the availability and location of church records, sites dedicated to specific surname interests, historical events, locations etc.
The database can be entered from an All-Ireland page before proceeding to individual county pages. It's definitely worth bookmarking as you'll be referring to it frequently as your Irish ancestry research progresses.

Neighbours, friends and rent
Richard Griffith's Primary Valuation was the first full-scale valuation of property in Ireland (more about his Valuation here).
It is one of Ireland's most important surviving 19th-century genealogical sources and plays a part in nearly everyone's Irish ancestry research because it records the names of householders in each county, town and hillside at the time the Valuation was carried out.
Alongside the householder's name are details of the lessor (if there is one) for that property or land, a summary of the property or land, plus its rateable value. Because it lists households by townland (or street in urban areas), it is quite probable you will find the names of other family members living nearby.
The Valuation was produced with maps showing precise locations for each household.
Indexes to the Valuation have been available for some time, and subscription sites have offered more detailed access to it, but AskAboutIreland was the first site to bring the index, valuation records and maps to the public for free.  As such, it has become an important resource for all Irish family historians.

It is currently being redeveloped, so from time to time it becomes inaccessible, or some features - especially the maps - may not be available to view.  Although this is somwhat irritating, the site is free and wonderful when it's working at full steam, so worth checking regularly. Unfortunately, redevelopment is not expected to be concluded in a hurry.

Detailed maps of Ireland

The First Edition 6-inch-scale Ordnance Survey maps of Ireland
These maps were produced from surveys carried out between 1829 and 1843, so they pre-date Griffiths Valuation (a major land survey) by up to 35 years.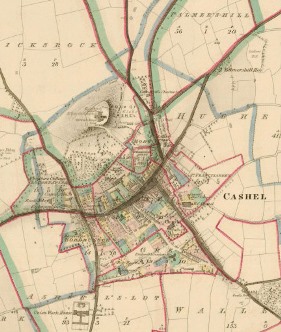 Historical map of Cashel
As such they provide an unprecedented insight into 19th-century life by capturing the physical characteristics of Ireland during a period of great upheaval, hardship and mass emigration.

Such a nationwide mapping survey had never previously been attempted anywhere in the world.
At six inches to one mile, these are extremely detailed maps of Ireland's townlands. They are also rather beautiful. They can be browsed online, and you can layer them with townland boundaries and landmarks and switch between more recent and older maps.
You can even buy a large scale print to hang on your wall.
An Irish ancestry research widget for townland jurisdictions

The Townland Database is a searchable database of all 60,000+ Irish townlands (and towns) as used for the 1851 census. It details the name of the County, Barony, Civil Parish, Poor Law Union and Province for each location.
It is an important website for Irish ancestry research because it helps you to find the various jurisdictions in which any given Irish townland is located. Since each jurisdiction keeps different kinds of records useful to genealogical study, it is critical to know the jurisdictions which covered your ancestor's birthplace or home.

Learn the language of Irish placenames

This government-funded project is available in both English and Irish. You can choose when you arrive on its home page via the link above.
Through it's database you can search for place names that you're researching and pinpoint them on the map. You'll also receive clues as to the original meaning of the name, plus links to old texts that have been used in the verification of the name. See this example for the townland of Garranagoleen near Clonakilty in West Cork, which borders the townland of my paternal family.
The amount of information you'll find for each townland varies, but research is ongoing.
There's also a wonderful glossary of Irish words frequently used in placenames; it will open your eyes and ears to the countryside as you travel through it.
Logainm is an easy to use site and it may add a little extra to your research.