Land divisions
Irish land divisions


Irish land divisions go beyond the familiar names of the 32 counties which make up the island. There are a number of additional land divisions which are worth understanding because genealogical records are not all organised in the same way. Gaining an acquaintance with how Irish land divisions work will therefore save you wasted searches and duplication of effort.
The nation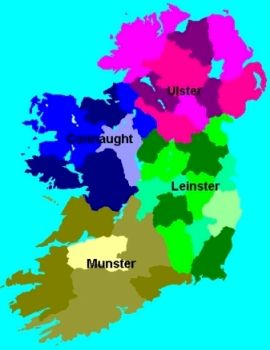 Historically, the island of Ireland was known simply as Ireland. However, following 'partition' in 1922, the modern-day island of Ireland is split into two entities: the Republic of Ireland and Northern Ireland.
The Republic is an independent nation covering a little more than 80% of the island. It includes all of the provinces of Connaught, Leinster and Munster, plus three counties of Ulster: Cavan, Donegal and Monaghan.
Northern Ireland is part of the United Kingdoom and consists of the remaining six counties of Ireland's province of Ulster: Antrim, Armagh, Derry (also called Londonderry), Down, Fermanagh and Tyrone.
The province

The four provinces of Ireland relate, approximately, to the regions ruled by pre-Norman kings or clans. They are the oldest of all Irish land divisions. Connacht in the West (O'Conor); Leinster in the East (MacMurrough); Munster in the South (O'Brien); and Ulster in the North (O'Neill). They do not have any administrative purpose or official status anymore. In fact, they are rarely mentioned except in sporting fixtures.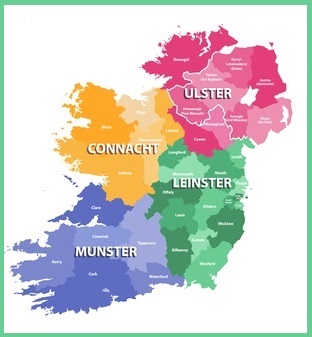 The province of Connacht is made up of Galway, Leitrim, Mayo, Roscommon and Sligo. Its flag shows an eagle and sword.
The province of Leinster contains 12 counties: Carlow, Dublin, Kildare, Kilkenny, Laois, Longford, Louth, Meath, Offaly, Westmeath, Wexford and Wicklow. Its flag is a harp set on a green background.
The province of Munster contains Clare, Cork, Kerry, Limerick, Tipperary and Waterford. Its flag shows three gold crowns on a blue background. It is sometimes confused for Dublin's flag.
The province of Ulster is made up of Antrim, Armagh, Cavan, Derry/Londonderry, Donegal, Down, Fermanagh, Monaghan and Tyrone. Its flag highlights a red hand on a shield set on a background of gold/orange with a red cross.
The County

The 32 counties are probably the most consistent Irish land divisions and most people identify themselves with their native county.
All the counties of Ireland have a county town (which is often named after the county, just to confuse everyone!) which may have grown over the years to achieve city status ie Cork City, Galway City etc. A more recently added complication has been the division of Dublin into four county councils and of Tipperary into two.
Each county is made up of a number of civil parishes. About 25 of them have more than 100 parishes. Country Leitrim has just 17, the smallest number.
Learn more about each of the counties of Ireland.
The Barony

Although its origin remains somewhat obscure, the barony used to be one of the most important Irish land divisions when surveys and early censuses were carried out. Many baronies span parts of multiple civil parishes and counties in Ireland and their areas changed over time. They have been obsolete since 1898, but not for genealogists! Many old land and property valuations were organised according to barony so it is worth being able to identify the barony in which an ancestor's townland was located.
The Parish

There are two types of parish ecclesiastical and civil and they should not be confused, no matter how confusing this gets!
There are about 2500 civil parishes in Ireland. Each contains an average of 24 townlands and they are usually responsible for the compilation and maintenance of Irish land and property taxes and records.
The ecclesiastical position is rather more complicated because there are both Church of Ireland parishes and Roman Catholic parishes, and they have different congregations and boundaries. Typically Catholic parishes spread over a larger region than Church of Ireland parishes. The differences are best explained by a little history.
Back in the early 1800s, the Church of Ireland was still the Established Church of the island, and civil parishes followed pretty much the same geographical area, and used the same name, as the Church of Ireland parishes. Over the last couple of centuries, there has been some shifting of boundaries and some renaming of parishes, but for most genealogical purposes, there has been little or no change.
One peculiarity is that some individual Church of Ireland parishes actually incorporate several civil parishes. This was because Church of Ireland congregations were quite small in some regions and a church in each civil parish could not be justified.
The ruins of Kilkerranmore Church, Co Cork.
Roman Catholic parishes are the more complicated. When the Reformation reached Ireland in the mid-1600s, the RC church had to respond to the confiscation of its assets and removal of most of its clergy.
It did this by creating much larger parishes, and these sometimes contained quite spread-out pockets of civilisation.
While this no doubt created some difficulties initially, the RC authorities found that since they were no longer restrained by any official map or Irish land bounderies, they had greater flexibility to create new parishes centred on shifting or growing areas of population.
This was particularly the case after full Roman Catholic emancipation was granted in 1829. After this time, many new Catholic parishes were created.
Unfortunately, the long term result for Irish genealogy research is not so favourable. Not only do some Catholic parishes share the name, but not necessarily the land, of a civil parish, they cover a larger population simply because the majority of the Irish was Catholic. Plus, the registers for a particular area may have been split between two parishes when a new parish was created.
By contrast, the records of the Church of Ireland cover wider areas, smaller congregations and are relatively easy to search.
If your ancestors emigrated from Ireland, bear in mind that they may have listed their civil parish as a place of origin on civil documents in their adopted country. They are just as likely to have recorded the Church of Ireland parish or Roman Catholic parish when completing ecclesiastical documents ie noting their place of baptism or marriage, rather than their place of origin.
The Diocese

The diocese is an administrative ecclesiastical unit and of little relevance to genealogy except that some types of records use it for filing purposes.
An old ecclesiastical map of Ireland
Over time, the Church of Ireland and the RC church have gone their own way over dioceses. The former now has 12 dioceses in two just two provinces, Armagh and Dublin, although they cover the whole island.
The Catholic church retains its four provinces: Armagh, Dublin, Cashel & Emly, and Tuam.
It also still has 26 dioceses: Achonry; Ardagh & Clonmacnoise; Armagh; Cashel & Emly; Clogher; Clonfert; Cloyne; Cork & Ross; Derry; Down & Connor; Dromore; Dublin; Elphin; Ferns; Galway, Kilmacduagh & Kilfenora; Kerry; Kildare & Leighlin; Killala; Killaloe; Kilmore; Limerick; Meath; Ossory; Raphoe; Tuam, Waterford & Lismore.
The City and Town

The least complicated of Irish land divisions! These are urban neighbourhoods and should not be confused with townlands. A city or town may be made up of several townlands or be only one part of a townland.
Fortunately, most genealogical documents for addresses in cities and towns will bear a street name and sometimes a house number or name.
The Townland

The Irish Genealogy Guide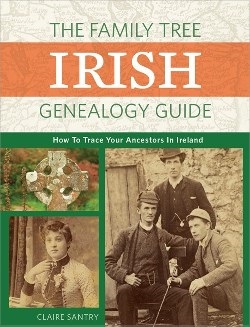 Written by the creator of Irish Genealogy Toolkit and Irish Genealogy News, this 240-page paperback is full of essential advice and strategies for tracing your immigrant ancestors back to Ireland from America
The townland is the most fundamental of all Irish land divisions and is the essential ingredient for successful genealogical research in Ireland. It is the smallest official division and one of the most ancient. It was originally based on 'ballyboes', areas of land deemed sufficient to sustain a cow.
Over time, townlands of varying sizes were established and by the 1830s there were some townlands of less than one acre and others of several thousand acres. Land was rented out using the name of townlands and they were used as a basis of census returns from 1821.
In rural areas, the townland is still used as the postal address for letters, packages and other deliveries, and there is a lot of resistence to the introduction of postcodes. Because townlands cover quite small areas, road maps of Ireland do not show them, but they appear in Ordnance Survey maps.
The Irish Genealogy Guide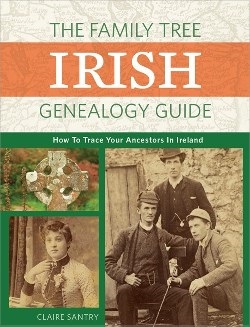 Written by the creator of Irish Genealogy Toolkit and Irish Genealogy News, this 240-page paperback is full of essential advice and strategies for tracing your immigrant ancestors back to Ireland from America
The Poor Law Union (PLU)

In 1838, a Bill established a system of poor relief to the destitute of Ireland. It created a series of workhouses to which society's most unfortunate could retreat when they could no longer provide themselves with basic necessities.
Rather than follow the civil parish system or other traditional Irish land divisions, Poor Law Unions were created and centred on market towns, where the workhouses were also built.
In total, 137 unions were created. They were of varying geographical size with the largest in the west (where the population was sparser) and the smallest in the east of Ulster (where the population was dense).
Poor Law Unions were subsequently subdivided into district electoral divisions (DEDs) for the taking of censuses. They are also important Irish land divisions for studying valuation records.
The boundaries of PLUs were also used when Superintendent Registrar's Districts were created
The Superintendent Registrar's District

These districts are Irish land divisions created purely for administrative purposes, in particular the civil registration of births, marriages and deaths. They date from 1845. From a genealogists perspective, they are the same as Poor Law Unions
The District Electoral District

District Electoral Districts (DEDs) are subdivisions of Poor Law Unions and consist of a number of townlands. Some records ie the cancelled land books and census returns, are arranged by DED so it always worth making a note of the relevant DED alongside any townland name you record; you may need it later in your research. 
The way to locate the DED of a townland is to study the Alphabetical Index of Townlands, available at the National Archives in Dublin and many major libraries around the world. There are also online widgets to help you identify: see the Placenames box in the right-hand column. 
The way to locate the DED of a townland is to study the Alphabetical Index of Townlands, available at the National Archives in Dublin and many major libraries around the world. There are also online widgets to help you identify: see the Placenames box, below. 
Placenames
In the 1830s, the Ordnance Survey was carried out and the names (and their spellings) of all townlands standardised and recorded. In 1861, an Index (full name: General Alphabetical Index to the Townlands and Towns, Parishes & Baronies of Ireland) was published by Alexander Thom & Co. of Dublin, based on data from the 1851 census. Dublin-based genealogist Shane Wilson has created a free online Townlands Database from this Index.
A later Index was published in 1904, based on data used for the 1901 census. A free online database based on this Index is freely available on IrishAncestors.ie, the website of the Irish Genealogical Research Society.
Although these Indexes are incredibly useful, problems frequently arise because some townlands and locations also have unofficial place names. Imagine the frustration of locating the name of the townland where your ancestors lived only to find the place doesn't seem to exist; it has happened. Often.
These place names are usually the old Irish names, binned when the Ordnance Survey was recorded. A number of new websites are now available to help overcome these difficulties. They include Logainm.ie, which covers the Republic of Ireland, and PlaceNamesNI, which covers Northern Ireland. Both are free.