Ryan
Irish surname - Ryan


Around 25 years ago, the Irish surname Ryan was estimated to be the 8th most common family name in Ireland. It held exactly the same position in the 'Top Ten' of 1890, more than a century earlier, too.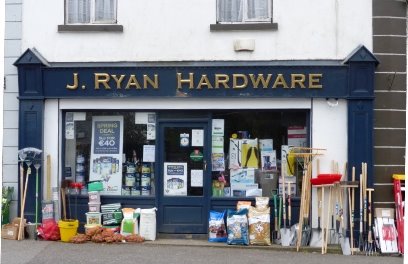 J Ryan Hardware, Tyrellspass, County Westmeath.
It is a name that instantly confers Irish heritage upon the holder, no matter where that person may live, nor how many generations may have passed since their ancestral Ryan departed from Ireland.
In Old Irish, the name was spelt 'O Maoilriain'. This was translated into English as Mulryan and later shortened to Ryan; in Modern Irish, the surname is 'O Riain'.
For varient spellings see the Varients of Ryan box.

The name's origins are not certain, but Ryan may be a diminutive form of the Irish word 'Ri', meaning 'little king'.

Two castles, both in County Tipperary and now in ruins, have historical associations with the Ryan sept: Castle Cully in the parish of Kilnarath and Gortkelly Castle near Thurles, and there are still many other sites to visit with Ryan connections in the county.

Going back to 1847-1864 when a land and property survey - Griffith's Valuation - was carried out - some 8,939 Ryan households were recorded across the island.
The 'stronghold' was County Tipperary, where nearly half of these Ryan households were located. Neighbouring County Limerick had 1,263, followed by counties Kilkenny (616) and Cork (407).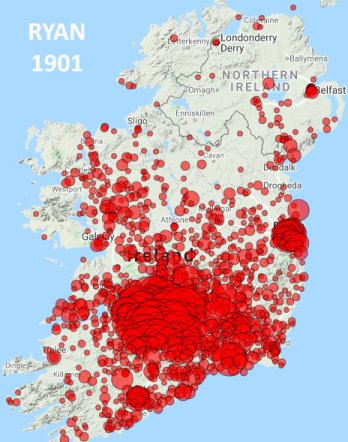 Ryans mapped from 1901 Irish census. Image courtesy of JohnGrenham.com. Click to view.
By 1890, the pattern had changed little, with more than half of all babies with the surname Ruan born in the province of Munster.  Only 13 Ryan births were recorded in all of Ulster, and just 49 in Connacht.
The map, left, plots Ryans enumerated in the 1901 Irish census, and it is clear that the surname remained true to its original territories, although there were signs of spread in all directions except north.

By this time, whether by choice, exile, poverty or famine, the family name Ryan had travelled far beyond the shores of Ireland. Today it is not only one of the most common names in its 'homeland' island, it is also a well-established and widely occurring name in many parts of the world.

The Irish surname Ryan goes global

By the end of the 18th-century, the surname Ryan was not unknown in mainland  Europe. Along with members of the Gaelic aristocracy and legions of Irish soldiers who had made a career of serving in continental armies, many Ryans had settled abroad over the previous two or three centuries.
Those families who chose Spain as their new home are probably the best studied, especially those in Cadiz and the Balearic Island of Majorca. The Irish Genealogist journal has several features exploring Ryans in Spain, written by highly regarded genealogists and historians; see the journal's database at IrishAncestors.ie.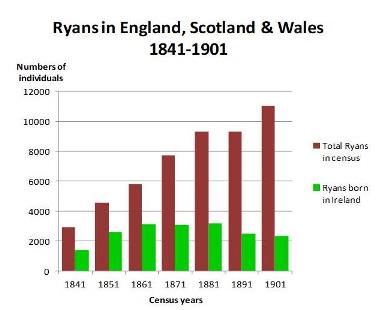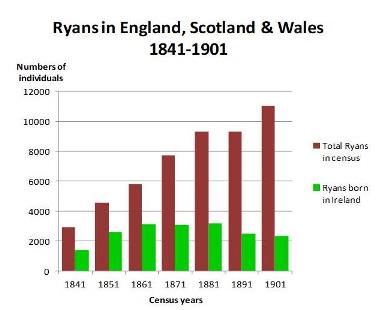 The name was already quite settled in Ireland's neighbouring island by 1841, especially in England. That year, in the first censuses held across England, Scotland and Wales, there were 2,939 Ryans recorded (2735, 90 and 97 respectively), and more than half (1,552) had been born in one of these three nations.
Geographically, the largest contingents of Ryans were in London (1,269), Liverpool (328) and Manchester (226).
As the graph shows, the Irish-born Ryans continued to cross the Irish Sea in growing numbers in each of the following decades until, in 1891 they began to reduce. In 2016, the Oxford Dictionary of Family Names in Britain & Ireland estimated there were 30,462 individuals with the surname Ryan in Great Britain.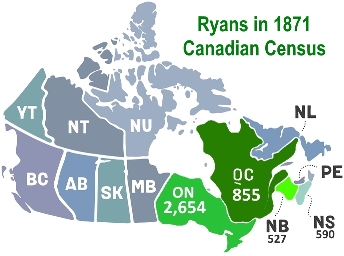 Although Irish immigration to North America dates back many centuries, it wasn't until the early 1800s that numbers started to grow. Mass emigration due to the Great Famine of 1846-1850 followed. More about Irish immigration to Canada.

By 1871, the first census after Canada became a country recorded 4,626 individuals called Ryan. See the map to see where they were residing.
Of the total, 1,256 Ryans (27%) had been born in Ireland. The eldest of these was one John Ryan, a widower living with this family in North Esk, Northumberland, New Brunswick; his birthdate was given as 1786.
The number of Ryans hardly grew over the next 20 years and by the 1901 census, they totalled 4,782 with just 393 (8%) noting Ireland as their birthplace. In 1911 and 1921, this proportion continued to fall, but overall numbers of Ryans grew.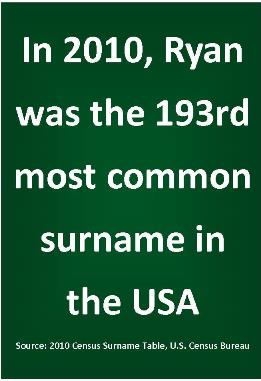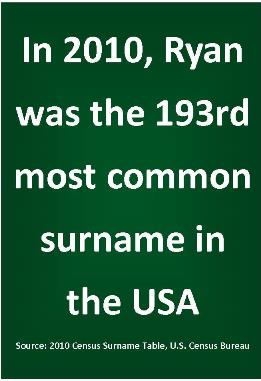 Heading south, to the USA, some 5,603 Ryans were recorded in the 1850 federal census. Nearly half (3,397) were in Massachusetts. The second largest state home was New York (2,275) followed by Pennsylvania (438), Illinois (178), Connecticut (183) and New Jersey (108).
In 1900, the numbers had grown to more than 74,000. By then New York was home to the largest group (16,673), with Illinois having 7,302 Ryans and Massachusetts 6,722.  Of the full Ryan contingent, 13,420 (18%) gave Ireland as their place of birth.
By 1940, Irish-born Ryans made up only 4% of the Ryans living in the States. By 1964 there were 143,700 people called Ryan and the surname was the 132nd most common.By 2010, it was in 193rd place.
To find out more about Irish immigration to the USA, and the coffin ships that carried so many desperate and poor people from Ireland during the Great Famine, see the Emigration pages of this site.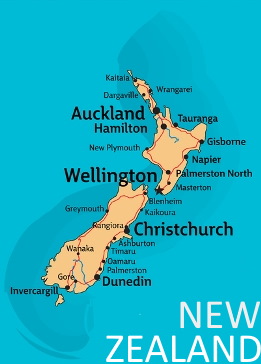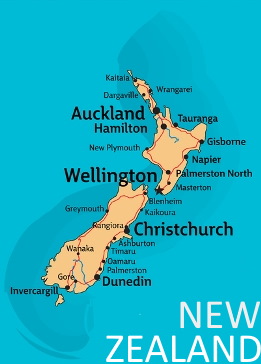 In the absence of any publicly available census returns for Australia, it's difficult to plot the growth and spread of individual surnames across the island over the years.
From the limited statistics released after the 2011 Australian Census, it is known that 2,087,800 residents identified themselves as having Irish ancestry, making them the third largest group after English and Australian. The Irish, then, represent 10.4% of the total population of the country.
More recently, a report from Australia's White Pages directory of the 20 most commonly occurring family names concluded that Ryan ranked at 16th place. 
In New Zealand, the company Forbears.io calculates that there were 4,121 Ryans in the country in 2014, making it the 94th most common surname there. The areas with the largest number of Ryans were Canterbury (782 individuals) and Wellington (690), with the name ranking as the 35th and 39th most common family surname respectively.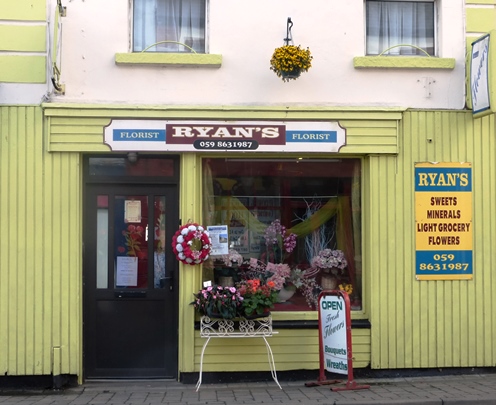 Ryan's florist shop, Athy, County Kildare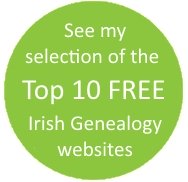 Varients of Ryan
Unlike some Irish surnames, Ryan has been spelled remarkably consistently.
In Griffith's Valuation (1847-1864), the number of households recorded with this surname was 8,939, with 8,871 (99.2%) of them spelled in the Ryan form.
This still left some room for varient spellings, however, and the following versions of the name have also appeared in documents: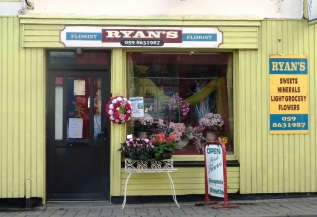 O'Ryan, and
A number of other varient spellings for Ryan have also been noted in other sources. Find out more at JohnGrenham.com.

An Indispensable Research Guide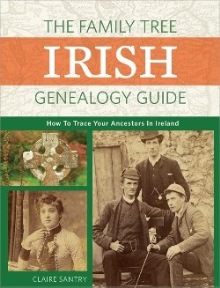 Written by the creator of Irish Genealogy Toolkit and Irish Genealogy News, 'The Family Tree Irish Genealogy Guide' is full of advice, tips and strategies to ease what can be a challenging journey. Its guidance will be useful to any researcher of Irish heritage, but especially for the target Irish-American researcher who's struggling to work back to Ireland from their immigrant ancestor. Publisher: Penguin. ISBN:9781440348808/240pages. Click/tap image for details.