Birth records
Ireland birth records


In Ireland birth records date from 1864, when the Irish civil registration system was introduced. Until this time, a child's arrival was recorded only by baptism (or christening, according to religious denomination).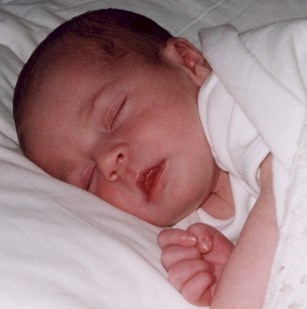 One of my nephews, just one day old.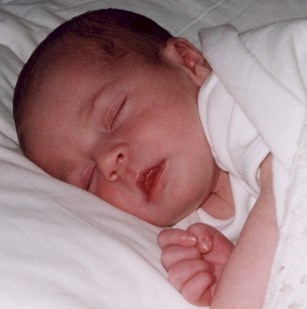 One of my nephews, just one day old.
Although it became compulsory to register all Irish births with a local registrar, some Irish births were not recorded, particularly in the early years.
Some estimates put non-registration as high as 15% in some of the vast rural areas of the west where it might have meant a day's trek (or more) for a new parent to reach a registration office.
In other areas, estimates of non-compliance are usually set at 10% for the first fifteen years or so.
But even by the 1880s, the need to register a birth might have been overlooked. This happened in my own family when my grand-uncle William Santry was born in 1882.
He appears in neither the GRO's birth indexes nor the original registers.
On joining the Post Office (then part of the Civil Service) aged 20, he had to provide proof of baptism and school references as substitutes for a birth certificate.
I've no reason to believe this was an intentional 'oversight' by my great-grandparents because they registered all seven of their other children. Interestingly, though, the date recorded on their son Timothy's birth certificate is not the date he celebrated his birthday (see below). His parents may have declared a later birth date in order to avoid a late registration fine.
As you can see, in Ireland, birth records are not necessarily complete or accurate, even if they do survive, as a collection, in their entirety!
Where to start looking for Ireland's birth records
Irish birth records date from 1864. You can find out how to search these records and how/where to obtain copies of birth certificates on the Irish civil registration overview page (see Related Pages box below)
Irish birth certificates
All Irish birth certificates / civil birth register entries contain the following information:

Date of birth
Place of birth (townland or urban street name/house number)
Name of child (sometimes blank or 'male' or 'female' if name not yet decided)
Sex of child
Father's name and address (townland or street name/house number)
Mother's name and maiden name
Father's occupation
Name, address and 'qualification' (relationship) of informant.
Date registered
Name of registrar
Superintendent Registrar's District
County
Irish birth register entries are especially helpful to your genealogy research because they show the all-important, and often elusive, townland where the child was born. They also give the birth names of both parents.
With both parents' surnames, finding a record of their marriage becomes a lot easier and, with that, your family history research can usually move back another generation. 

The date of birth should, however, be treated with a little caution. The longer the period between the birth and the date of registration, the more likelihood the date of birth is incorrect.
But some registrations that appear to have been recorded promptly after the birth may also be incorrect; families were fined if they recorded the birth outside set time limits so would register a false date of birth to avoid hefty penalties.
Examples of Irish birth certificates/registrations
The documents below are a selection from my own family history research. Click on the thumbnails for a larger view.

My grandfather's birth was registered in Rosscarbery, Co. Cork, on 20 February 1878 by his father who stated that his first child's arrival date was 13 February.
It just so happens that I knew my grandad always celebrated his birthday on 20 January. I later found his baptism record for 21 January, so the birth date recorded in the register is clearly incorrect, either deliberately or because someone had popped in for a swift half or six before the registration was made. 


Mary Tobin was born on 8 March 1872 in Toorbeg, Co Tipperary. Her farmer father, Thomas Tobin, registered the birth fifteen days later. He was illiterate and signed with an X (his mark).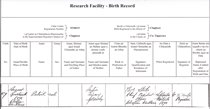 Related pages & Quick links
Foreign Births Register
If you are looking for the birth record of an ancestor born abroad to Irish parents, you will not find it in Ireland's mainstream civil registration records. Such births would have been registered in the jurisdiction in which it took place. However, since 1956 there has been a Foreign Births' Register.
It is not maintained by the GRO but by the Department of Foreign Affairs and it plays an important role in allowing Irish citizenship to be granted to people whose grand-parents (but not their parents) were born in Ireland. It is currently used purely as a bureaucratic tool and is not made available for genealogy research.
The Family Tree Irish Genealogy Guide

Written by the creator of Irish Genealogy Toolkit and Irish Genealogy News, 'The Family Tree Irish Genealogy Guide' is full of advice, tips and strategies to ease what can be a challenging journey.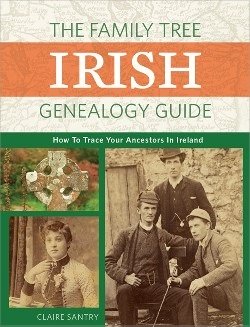 Click/tap image for more details
Its guidance will be useful to any researcher of Irish heritage, but especially for the target Irish-American researcher who's struggling to work back to Ireland from their immigrant ancestor.

Publisher: Penguin
ISBN: 9781440348808 / 240 pages.