Civil marriage records
Civil Registration: Irish marriage records


Civil Irish marriage records date back to 1845 (for non-Catholic marriages) and to 1864 for ALL marriages.
(Church records are different. See Related Pages.)
While the obligation to register births and deaths was not wholeheartedly embraced by the population of Ireland when it was introduced, Ireland's civil marriage records are considered to be more or less complete right from the start.
Annie and Dick married in Co Carlow in 1919.
(Church records are different. See Related Pages.)
While the obligation to register births and deaths was not wholeheartedly embraced by the population of Ireland when it was introduced, Ireland's civil marriage records are considered more or less complete right from the start.

This is mainly because, after a few early hiccups, Anglican, Presbyterian and civil officials were issued with printed registers (books); after each ceremony, when they recorded the necessary details into the books, they would transcribe the data onto printed forms (see example of a blank marriage register form here) and submit these transcriptions to the local Registrar.
When full, the registers - the originals - were handed over to the local Registrar for safe-keeping. These are generally referred to as 'the locally-held [civil] registers'.

(Unfortunately, RC priests did not use the pre-printed registers forms when they first joined the compulsory registration system in 1864; the responsibility was given to the bride and groom to register their marriage, and some clearly had other things on their minds. From 1880, however, the responsibility for registering RC marriages was given to the parish priest.)
Each quarter, the Superintendent Registrar gathered in all the transcribed forms from his district's clergy.
These were then sent to the General Register Office in Dublin where they were sorted into alphabetical parish order, then into Poor Law Union order. 

Bundled together, these loose forms were then assigned a volume number and each page numbered, creating a national index of marriages for each quarter of the year (later indexing was done annually).
Inevitably, mistakes were occasionally made during the administrative process and although relatively rare, genealogists have come across cases of Irish marriage records being omitted from the national index even though the marriage was correctly issued and recorded in the locally-held register.
Where to start looking for Irish marriage records?

The first stop for Irish marriage records is usually the civil registration index. These are compiled and maintained by GRO in Roscommon and also, since 1922, by GRONI in Belfast. Until recently, they were available only in the research rooms of those organisations.
In the last few years, a number of websites have begun to offer transcripts and images of Ireland's historical civil registration records. Some of these offer free access. Some don't. Some are nearly complete; most are not.
The two with the most to offer are provided by the General Register Office of each jurisdiction on the island: 
GRONI's Geni online database is complete for marriages in Northern Ireland from 1845/1864 to 50 years ago.
At IrishGenealogy, GROI's database is complete for marriages across the island from 1845/1864 to 1921. From 1922 to 50 years ago it covers only the Republic of Ireland

There's an overview of how to use the indexes to obtain copies of marriage register entries (which provide the details for marriage certificates) on the main Irish civil registration page.
Do you really need an Irish marriage certificate?

Irish family historians don't need to cough up outrageous fees for a legal or official copy of their ancestor's marriage certificate.  You can get one, sure, if that's really what you want - follow the instructions at certificates.ie or GRONI's Geni.

But most genealogists don't need a certificate. They need only the information contained on a copy of the register entry. 
Online images of the register entries from 1845 to 1921 for the entire island (including the counties now in Northern Ireland) and for 1922-1945 for the Republic of Ireland can be viewed free at IrishGenealogy.ie. They download to your computer device as printable pdfs.

For online images of the register entries from 1845 to 1945 for Northern Ireland there is a small charge to view them at GRONI's Geni database.
Links are in the section above.

Irish marriage records: examples

The images below are a selection of Irish marriage records obtained for my own family history research. In each case the image shows the marriage register entry.

Below is a copy of the register entry of George Nichols and Sophia Doolittle. It dates from 1862 - two years before ALL Irish marriages had to be registered.

It's full of wonderfully rich detail. It tells me the groom's profession, the names and occupation of both fathers, the residences of bride and groom in Wicklow Town, and the names of two witnesses (who are, as is often the case, relations)
The only disappointment is the official's decision to record 'full age', meaning over 21 years, rather than actual ages (this is a frequent complaint... our Irish ancestors obviously didn't appreciate how helpful they could have been to later generations).
This marriage took place at the Register Office in Wicklow because, so the story goes, she was a Roman Catholic and he a Methodist, and neither would agree to marrying in the other's place of worship. It was agreed, however, that all the their children would be raised as Catholics.
Some 32 years later, George and Sophia's eldest daughter, Sydney (the woman surrounded by her ten children on Irish Genealogy Toolkit's Home page) married at St Patrick's Roman Catholic church in Wicklow.
The format of her marriage certificate (below) was almost identical to that of her parents' (above).

My great grandmother's marriage register entry. Click image for enlarged view.
Again, the 'full age' issue crops up here, but the names of the streets where bride and groom lived have been included, reflecting the growth of Wicklow Town in the intervening years.

And here's an unusual example that clearly demonstrates the need for Irish family historians to check the register entries.
It's hard to believe, but all the details recorded in this marriage register entry really are correct!
Denis Santry, the son of carpenter Denis Santry, married Ellen Santry, the daughter of farmer Denis Santry. They married in Cork City in 1878. This had long looked like a mis-recorded entry in the Irish marriage indexes, but sight of the register helped to unravel a lot of inconsistencies in the Santry family tree.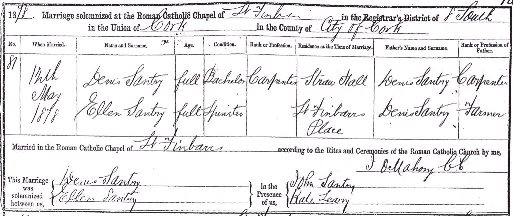 The bride and groom were both Santrys. Click image for an enlarged view.
Guess what the young couple called their only son! Four Denis Santrys attended the child's baptism: the infant, his father and both grandparents. (The infant would later became an internationally renowned architect and cartoonist.)